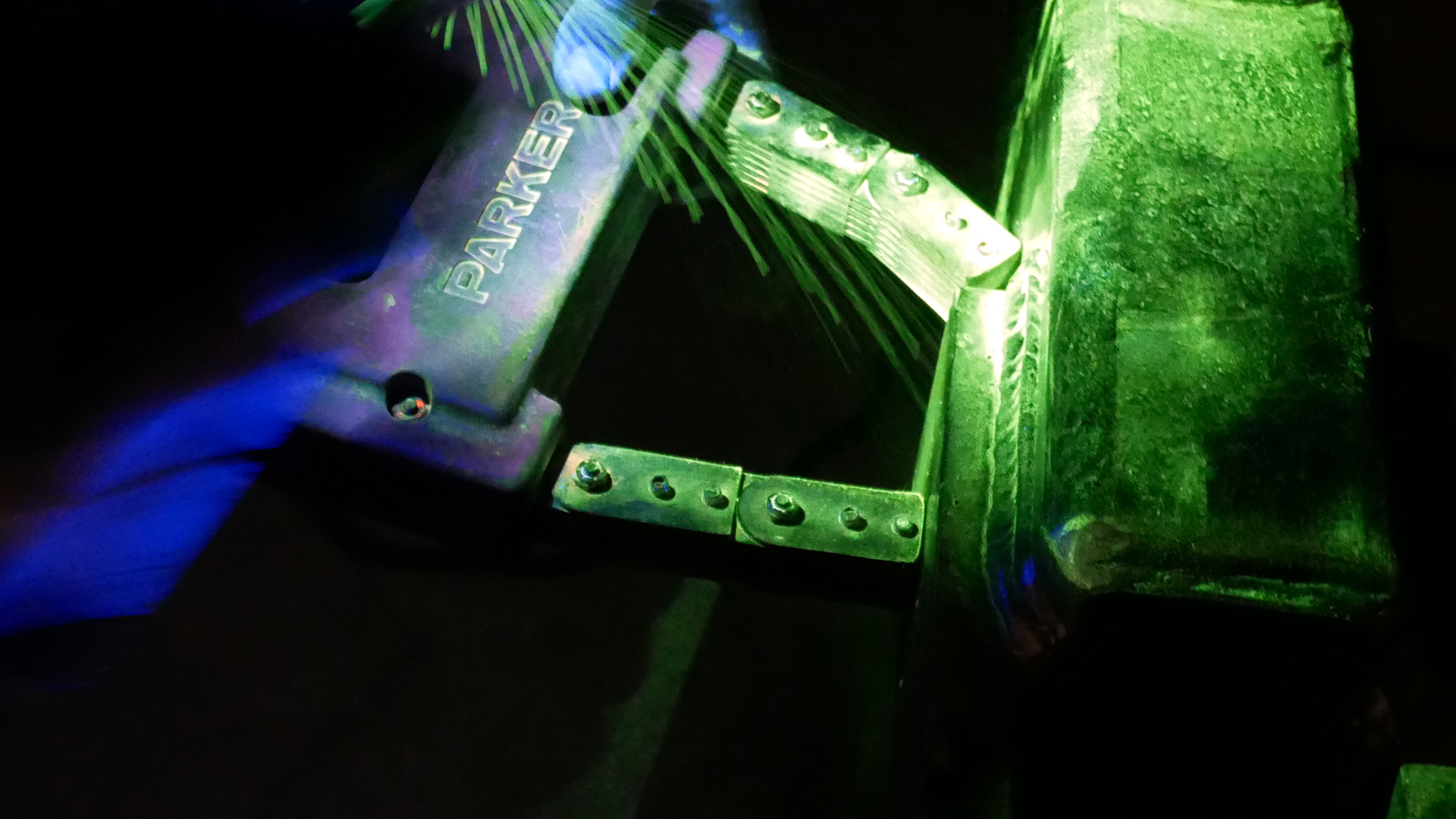 Magnetic Particle Testing
Pressure Point Testing's Qualified Re-certification team provides Flow line and Valve maintenance, Repair, Ultrasonic Thickness (UT), Magnetic Particle (MT) and Hydrostatic Testing (LT) at any location required by the client to promptly return iron investment to service.
Our recertification team will spend as much time on your project or remote site as needed. Every item of flow iron equipment will be properly assessed, rebuilt, and recertified for service.
Level 1 Inspection – Visual Inspection, Hydrotest.
Level 2 Inspection – Visual Inspection, Ultrasonic Wall Thickness Measurement, Hydrotest.
Level 3 Inspection – Visual Inspection, Ultrasonic Wall Thickness Measurement, Take Wings Off, Sandblast, Disassemble Completely, Magnetic Particle Testing, Band, Re-assemble, Hydrotest.
Recertification Capability Features:
Pressure Test Station with full test capability to 30,000 psi; Test set up for valves and integral connections
Magnetic Particle Testing: Electromagnetic Yoke magnetization; Wet Fluorescent Particles; Black light
Ultrasonic Thickness Inspection: State of the art thickness gages; Dual element transducer
Gas powered air compressor disperses 25 cubic feet per minute
Visual Inspection
Keeps surfaces free of erosion, corrosion and irregularities. Includes complete visual inspection and assessment of inside bores in all flowline equipment, terminal connections, and seal surfaces.
Ultrasonic wall thickness measurements
Precisely measures multiple critical areas in each piece of equipment to detect erosion and determine if wall thickness meets specifications.
Cleaning of wing end and thread end
Magnetic particle test (MT)
A magnetic field is induced in the component being tested using a yoke. Fluorescent magnetic articles suspended in water are then applied. If surface discontinuities such as rounding, cracks or other linear discontinuities are present in the parts, they will be detected
Hydro-Testing
Pressure testing up to 30,000 PSI capacity.
Identification and banding
Color-coded or stainless steel bands with serial numbers, pressure ratings and inspection dates, will be applied to all recertified equipment.
Inspection reports
Inspection reports are available through our Iron Works Customer Portal on demand, or you can request them to be provided to you. Our reports are easy to read, export, and utilize in your everyday applications.
Magnetic Particle Testing Details
Service: Flow & Frac Iron
Locations: All Over United States
Timeline: Determined by Client
More Information
Learn more about our magnetic particle testing services for the oil & gas industry by contacting us today, or by downloading our brochure.